Entertainment Books
There are $1000s in local savings in every book. To use your Entertainment Book Discounts, just present your coupon to a participating business. Save up to 50% and get 2-for-1 deals at top restaurants, shops, attractions, sporting events and more.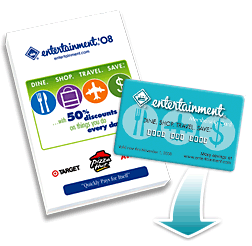 Membership Card
Every Entertainment Book comes with a complimentary membership card. Simply present your card at select fine dine restaurants, hotels, and car rentals to enjoy even more savings!
All Temple congregants and those wishing to support the Temple who want to purchase books for Orange County or Los Angeles/Long Beach are encouraged to call David Kahn at (562) 421-0311, or by clicking the image to the left here on the website. A percentage of the purchase price will be given back to Temple Beth Shalom, no matter if you buy from David or thru the link online. You can also purchase out-of-town books as gifts or if you are going on vacation and want to save on fine dining and attractions in the city of your choice.
For additional information, please call David Kahn at (562) 429-0311 or the Temple Office at (562) 426-6413.