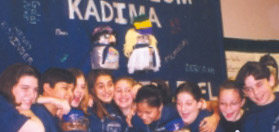 TBSKIDS – a new Temple group of youngsters and their parents – held its first event in November 2007 and it was a roaring success! We had nearly 100 people attend – including members and prospective members. The kids had a blast singing karaoke, dancing, and playing with other kids, while their parents were kibitzing. There was wonderful Kosher Mexican food -- ask anyone – it was great! The party didn't end until after 11:00 pm, and many new faces joined us and commented on how beautiful our Shul is.
We asked everyone at our first event to bring a friend to our next event, February 3, 2008, at 1:00 pm -- a Superbowl extravaganza! We will have a widescreen HD television, hamburgers and hotdogs, a keg of beer and soft drinks. The admission is $50.00 per family, which includes food and buys a square in the football pool. Assuming we get our anticipated attendance, first prize will be $1,000, 2nd, 3rd and 4th prize will be $500 each, while the balance of the pool will help fund our next event. We'll have a jumper and games for kids on the patio. Whether you like football or not, you'll have a terrific time! Email us at TBSKIDS@hotmail.com with any questions and to RSVP.
What is Kadima? Kadima is the international youth organization for Jewish pre-teens.

Sponsored by the United Synagogue of Conservative Judaism, Kadima offers programs at the synagogue level, as well as the national level. Kadima has thousands of members throughout North America.

Kadima activites include:

* Conventions
* Cultural Activities
* Yad B'Yad Tzedakah Program
* Holiday Celebrations
* Social Action Projects
* Games
* Arts & Crafts
* Sports
Membership in Kadima entitles you to participate in all Kadima activities. Every member also receives Kol Kadima, a quarterly magazine that includes sotries, games, articles about Jewish topics, and other activities of interest. Kadima is Hebrew for "forward."

The Calendar will list all Kadima events.
If you would like to be put on a mailing list for "Kadima", call the Temple Office at (562) 426-6413.