Friday Night
7:45pm: Kabbalat Shabbat Svc

Saturday Morning
9:30am: Shacharit Service
10:00am: Torah Service
11:30am: Musaf Service
Thursday Morning
8:00am: Morning Minyan
Our Spiritual Leader -- Rabbi Dov Gartenberg

Welcome to the Rabbi's Corner of Cyberspace


Rabbi Dov Gartenberg arrived in the summer of 2007 as Spiritual Leader of Temple Beth Shalom in Long Beach. He brings to TBS a passion for teaching Torah, a love of the Jewish people, and unique insight and experience from his distinctive rabbinic career.

Rabbi Dov Gartenberg grew up in a committed Reform Jewish household in the Redlands, California. He served as a big brother for a younger boy from a poor family and traveled extensively in Mexico during high school. During his college years he studied comparative and sociology of religions at UC Berkeley and Harvard University before training for the Conservative rabbinate at the University of Judaism (now the American Jewish University) in Los Angeles and the Jewish Theological Seminary in New York City. While attending these schools, he spent two academic years studying at the Hebrew University and Machon Schechter in Jerusalem.

During rabbinical school Rabbi Gartenberg served as a counselor at Camp Ramah, California and as a group leader for the Los Angeles Israel Ulpan during the late 70s. Rabbi Gartenberg served as an assistant rabbi at Congregation Adat Ariel in North Hollywood before serving at Temple Mishkon Tephilo in Venice, California for four years. He went on to serve with distinction at Congregation Beth Shalom in Seattle for sixteen years. Under his leadership the congregation won several awards for its innovative approach to Bar and Bat Mitzvah, community care, and the mentoring of converts and new members. He also led strong social action efforts in the area of environmental action and Israel advocacy.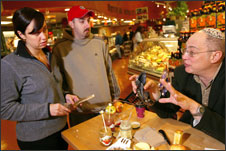 In 2004 Rabbi Gartenberg founded Panim Hadashot-New Faces of Judaism, a ground breaking Jewish outreach and educational organization in Seattle. This initiative earned Rabbi Gartenberg both local and national recognition for fostering new approaches to Keruv-Jewish outreach. Taking a pluralistic approach, he pioneered new ways to connect secular and independent Jews with Jewish life and community. Rabbi Gartenberg has also been recognized for his outreach to Jewish persons with special needs and for creating new 'sedarim' for festivals and Sabbaths.

Rabbi Gartenberg frequently visits Israel and is a fluent Hebrew speaker. He became a Senior Rabbinic Fellow at the Shalom Hartman Institute in Jerusalem this past summer after an intensive study program called the Rabbinic Leadership Program. This program brings North American Reform, Conservative, and Orthodox Rabbis together for a period of three years to study the central issues facing Jewry in the 21st century.

Rabbi Gartenberg is blessed with three children, Zachary, Moriel, and Fay. His middle son, Mori, is severely autistic which has greatly influenced Rabbi's interest in support for people with disabilities.

Rabbi Dov Gartenberg is thrilled to return to the land of his youth and his early career. He loves the beach, reading, and cult movies like The Big Lebowski. He is also more than the casual baseball fan, but does not like the local teams. He enjoys sharing his Shabbat table, great conversation, cooking, hiking, biking, sailing, travel, and engaging in acts of loving kindness and tikun olam.

We invite you to join Rabbi Gartenberg for a tour of our synagogue. To schedule a tour, contact the Rabbi via email or call the Temple Office at 562-426-6413.