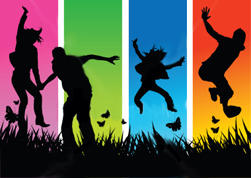 Former Temple Beth Shalom Cantor Roni Kripper created Shul House Rock, a band made of Temple members that plays on Friday night services, using a fusion of rock and traditional Jewish folk and klezmer music to deliver liturgies. The Shul House events are now among the most-attended at the Temple, with the Band playing not only once a month at Shabbat Services, but also making appearances at the High Holidays and special festivals, such as Simchat Torah. Cantor Jonathan Friedmann has taken over the leadership duties of the Band, and promises to continue the successful program.
The success of Shul House Rock has spawned a popular youth band, The Jewish Stars, and renewed interest among younger kids and baby-boomers alike.
The best way to for us to convey the enthusiasm of the evening's service is to have you come join us! Come experience the power of our Shul House Rock Service. To find out when the next Shul House Rock Service is taking place, see the Temple Calendar.

If you would like to be put on a mailing list for "Shul House Rock", call the Temple Office at (562) 426-6413.