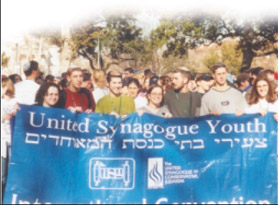 What is USY? USY is an international youth organization for Jewish teenagers. Sponsored by the United Synagogue of Conservative Judaism, USY membership entitles you to participation in programs on three levels: Chapters, Regional, and International. It also includes a subscription to Aschav!, the USY quarterly magazine.

A new USY youth group has formed at Temple Beth Shalom. Over 14 youth have participated in the first two meetings. The group has selected the name of their chapter as Chai Lights. The group has organized an acting board with elections to take place after the group has grown larger. The current officers and their contacts are:
Zachary Ghodsi, President
(562) 493-5026 goldendreidle@msn.com
Zachary Golden, Religious Vice-President
(562) 426-4820 reishagolden1@verizon.net
Kayla Kaplan, Communications Vice-President
(562) 799-9756 joshkaplan@imsmart.com
Elle Michaelson, Treasurer
(562) 556-3225 mchsint1@yahoo.com
Jared Lipp, Vice-President
(562) 595-5222 mlipp@main-line-inc.com
Mikhail Golden, Secretary
(562) 426-4820 reishagolden1@verizon.net
Jacob Ghodsi, Membership Vice-President
(562) 493-5026 goldendreidle@msn.com
All Temple Beth Shalom teenagers are welcome. We also welcome any Jewish teenagers to join our activities and to join the acting board to help us organize events. We hope to participate in regional USY activities as well. The group is planning several events in the Fall and a major year-long project. They are listed on our Calendar.
Jewish New York Adventure: In the spring Rabbi Gartenberg hopes to take Temple post Bar & Bat Mitzvah teenagers on a 4 day trip to New York City. The trip, which includes regular study and planning sessions during the year, will take place in the Spring. Please contact Rabbi Gartenberg at rabbi@tbslb.org if you have not yet received information about this exciting project.
If you would like to be put on a mailing list for "USY", call the Temple Office at 562-426-6413.